General Shipping Information
Most products purchased from Converge IoT will ship from our main warehouse location in Crystal Lake, IL (special order items may ship directly from the manufacturer). Converge can only ship to physical street addresses - no PO boxes.
Our cutoff time for same-day shipping is 3pm CST (Monday - Friday) for "In Stock" items (if a product is out of stock or is a "special order" item, you will see a notification when you add the item to your shopping cart).
Free and flat-rate shipping offer details and exclusions: Flat-rate shipping offers are for standard shipping and are available only for customers in the contiguous US (Alaska, Hawaii, Canada, etc are excluded). Order total must be over $99 to qualify, and bulk/volume/discounted orders do not qualify (orders over $10,000 or over 50 lbs and/or orders with special volume pricing).
---
Shipping Methods
For items shipping from our main warehouse in Illinois, Converge can ship FedEx Ground, Express, 2nd Day, Overnight (including early AM where available), and Saturday Delivery. For all services, a "day" is a normal business day, not a weekend or holiday. When checking out, the estimated delivery time for each service method is displayed along with the price.
The map below shows an estimate of how many business days an order shipped via FEDEX GROUND delivery will take for deliveries within the US: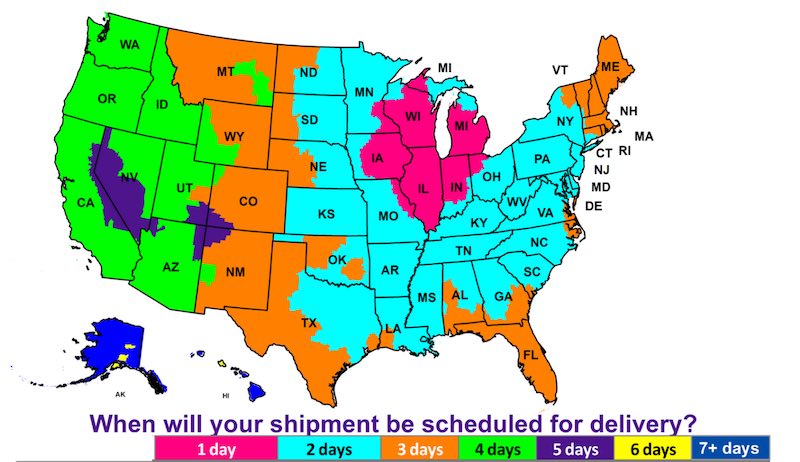 We email tracking numbers by 5pm CST the day your item ships. You can also Log In to your account any time and see the status and tracking number. Please note that your tracking number may not register with the shipping company until the package actually leaves our warehouse.
---
Shipping Policies/Disclaimers
For your protection, your order MAY be shipped with a signature required.
If there are any problems with your order (e.g. incompatible products, trouble with your shipping address, etc) you will be contacted promptly by phone and/or email, so please double check that the contact information you provide is accurate!
Any refused shipments will be subject to an automatic 20% restocking fee.
Converge reserves the right to cancel or void any coupon or promo code at any time. Expired, unauthorized or duplicate coupon or promo codes will NOT be honored.
WEATHER AND MECHANICAL FAILURE DELAYS: If your package is being delivered to an area affected by severe weather (snow, hurricanes, heavy rains and flooding, etc), please note that neither Converge nor the shipping company can be held responsible for any delays caused by weather and FedEx does NOT issue shipping refunds for shipments delayed by weather. Additionally, neither Converge nor the shipping companies are responsible for what are considered "mechanical failures" (e.g. problems with one of their planes that results in a delivery delay). Always check your tracking information at FedEx.com for up-to-date information on your package's status.
---
Sales Tax Info
US Customers: Sales tax is charged where applicable. Contact for more details.
Tax Exempt Businesses: If your shipping address is in Illinois or Florida and your business is tax-exempt, you can fax or email us a copy of your Tax Exempt or Reseller letter prior to ordering and tax will not be charged.
International Customers: Duties and taxes vary in different countries. The recipient is responsible for all duties/taxes/customs upon delivery.